Books by Bhikkhu Pesala
Any of my own books may be printed for your own personal use or for free distribution using the accompanying PDF file. As long as this is done without any alteration, no further permission is needed. © All rights are reserved.
A Brief Biography
I am the author of this web site and the Spiritual Director of the Association for Insight Meditation, which I set up in 1995 with the help of Christine Fitzmaurice and David Glendinning.
My first contact with Buddhism came through meeting two meditators who had practised the U Ba Khin meditation method with Sri Goenka in India. After an intensive ten-day retreat with Mr John Coleman, the author of »» "A Quiet Mind" (Audio Book on YouTube), I resolved to dedicate my life to the practice of insight meditation, and its propagation.
In 1976 I moved to Birmingham as the lay attendant of Sayādaw U Rewata Dhamma. For the next three years I drove the Sayādaw all over the country to visit his supporters and helped with cooking for vipassanā retreats and with other daily chores. I studied the Visuddhimagga Sīlakkhandha and Abhidhammatthasaṅgaha with the Sayādaw.
I ordained in 1979 with Venerable Mahāsi Sayādaw as my preceptor, and Chanmyay Sayādaw U Janaka as the examiner. Later the same year, I went to practise intensive meditation for six months at Mahāsi Yeikthā in Rangoon. Altogether, I have been to Burma four times to practise meditation under senior disciples of Mahāsi Sayādaw, especially Chanmyay Sayādaw U Janaka.
I have edited many books by Mahāsi Sayādaw, Ledi Sayādaw, and other Buddhist monks and scholars. Since 2018 I have added over a hundred translations of discourses to my website. I have worked tirelessly for many years to promote the systematic approach to insight meditation taught by the late Mahāsi Sayādaw.
The essential teaching of the Buddha is the Four Noble Truths and the last of these is the Noble Eightfold Path, which comprises morality, concentration, and wisdom. Nearly 2,600 years have passed since the time of the Buddha, and during this long time many traditional ceremonies and rituals have become embedded so deeply that it is difficult to see the heartwood of the essential teachings in the forest of traditional customs. All Buddhists should study the teachings systematically, and meditate seriously to develop insight to obtain the heritage of the Buddha's dispensation.
Ordination
Oakenholt, June 1979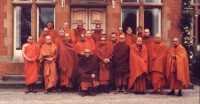 Front Row: Ven Nyānaponika, Ven Piyatissa, Ven Rewata Dhamma, Ven Mahāsi Sayādaw (seated), Sayādaw U Janaka, U Aggadhamma, U Myat Saw (the owner of Oakenholt), and two temporary monks Bhikkhu Pesala is at the far right of the middle row.
What Happened to Oakenholt?
Oakenholt Buddhist Centre was sold soon after the owner passed away. It is now a retirement home. It pleases me that the elderly can enjoy the peaceful surroundings that we did all those years ago. May the residents discover an interest in meditation during their final years.
Going Forth
Venerable Mahāsi Sayādaw with Ajahn Chah, Ajahn Sucitto,
Ajahn Ñānadharo, and Ven. Hammalawa Saddhātissa
Venerable Mahāsi Sayādaw with Monks and Lay Meditators
Back Row: Dave Ashcroft, Mrs Aung's two sons, Jurgen, Jerry Rollason (artist of Ajahn Chah's portrait at Chithurst), Dr Michael Clark, Roy Brabant-Smith, Burmese Kappiya, John Woodfine (Ajahn Kāruniko), three unknown, Mr Dennison.
Monks: Unknown temporary monk, Ven Dhammawiranātha, Rob Johnson, U Aggadhamma, Mahāsi Sayādaw, Sayādaw U Janakathree temporary monks, Ajahn Ñānadharo (Laos), U Khin (BBC) as a temporary monk, Bhikkhu Pesala.
Front Row: Two Tibetan nuns, unknown, Mrs Aung's two daughters, hidden, unknown, hidden, Mrs Khin, Joan Hamze, Mrs Aung, Mrs Ruth Dennison, Abhiññāṇi, six unknown.
Please let me know if you can identify anyone else.
Click to see larger images